Spring is here and Norfolk events have sprung into action. With the need for socially-distanced ways to enjoy the changing weather, Pop-Up Pictures are bringing their inflatable cinema screens to the Norfolk Showground to put on an amazing programme of Drive-In movies perfect for us to spend some time with our motors.
A real classic
A popular past-time in the 1950s, it would certainly be a breath of fresh air to feel like we're somewhere long before now. What's more is the opportunity to spend sometime around people, though safe in your beautifully fashioned car.
If you're unfamiliar with the organisers, Pop-Up Pictures, their fantastic Christmas and Summer screenings have never failed to impress. In the past, movie-goers would sit on picnic blankets on the grass but the need for social distancing has caused them to rearrange their events to become drive-in experiences. With cars like ours, we're not complaining.
Those of us with a high-fidelity sound system will have an event better experience. You can play the sound of the movie straight from your radio by tuning it to a specific frequency. Unlike being at the cinema where rustling popcorn and people's phones can be a right pain, you can make as much or as little noise as you'd like in your own car. As far as food goes, don't be surprised if there's an excellent selection of food trucks and stalls at the events.
Showstoppers
We have to talk about the movies. Whether you want some alone time with your car, bringing a date or your whole family, there's a movie for everyone from familiar classics to exciting new films. One such classic is 1979 classic Grease which sees John Travolta playing Danny Zuko. Come for the tunes, stay for that gorgeous Ford De Luxe.
No, really. Whilst the car takes centre stage in Grease, the eagle-eyed classic car enthusiasts among you will notice that the De Luxe makes a cameo appearance in two more of the films featured in the programme of events. SPOILER ALERT: The 1947 model is gifted to Ralph Macchio's Daniel-san in The Karate Kid (if you've seen the spin-off Cobra Kai, he still owns the car!) and the 1946 Super De Luxe convertible model is driven by Back to the Future's Biff Tannen (Thomas F. Wilson). However, we can't talk about Back to the Future without bringing up that iconic DMC Delorian outfitted with its own flux capacitor. While our SMART Repair techniques are cutting-edge, we've still got some catching up to do in terms of turning your car into a time-machine. But with how quickly and efficiently our experts can fix your car's dents and scratches, you'd think some sort of time travel was involved.
Riding solo? Or carrying people?
For families, there's the ever-heartwarming Coco and, speaking of time-travel, Jim Henson's 1986 classic Labyrinth starring Jennifer Connelly and David Bowie. If a different kind of musical is more your thing, Rocketman and Bohemian Rhapsody round off the whole event.
As you can see, there's an incredible selection of movies just waiting for you. But you wouldn't go to the Oscars in just any old thing, would you? If your car needs a quick and cost-effective repair that travels to you, you can book an appointment with East Anglia Smart Repair by calling 0330 111 0203, email us at [email protected] or fill out the form on our website.
You're driving into the county on the a11. Suddenly, all the road signs have disappeared, swallowed up by some alien tractor-beam. Or a solar-flare has turned the sun into a huge magnet and all the highway markers are hurtling through space. I'd wager you'd still know exactly where you are. You pick up a few things, driving up and down our eccentric country. It's not until you come back after venturing further north that the little quirks feel like home. This is our list of telltale signs you're driving in Norfolk.
Tractors
Rolling down the highway loudly and proudly, you're bound to see a tractor or two cruising down our county's many country lanes. It's a pace of life so grand, so easy, that it's very existence on the road *ahem* invites you and the twenty other drivers between you and the tractor to slow down and smell the roses. Ferris Bueller would be proud.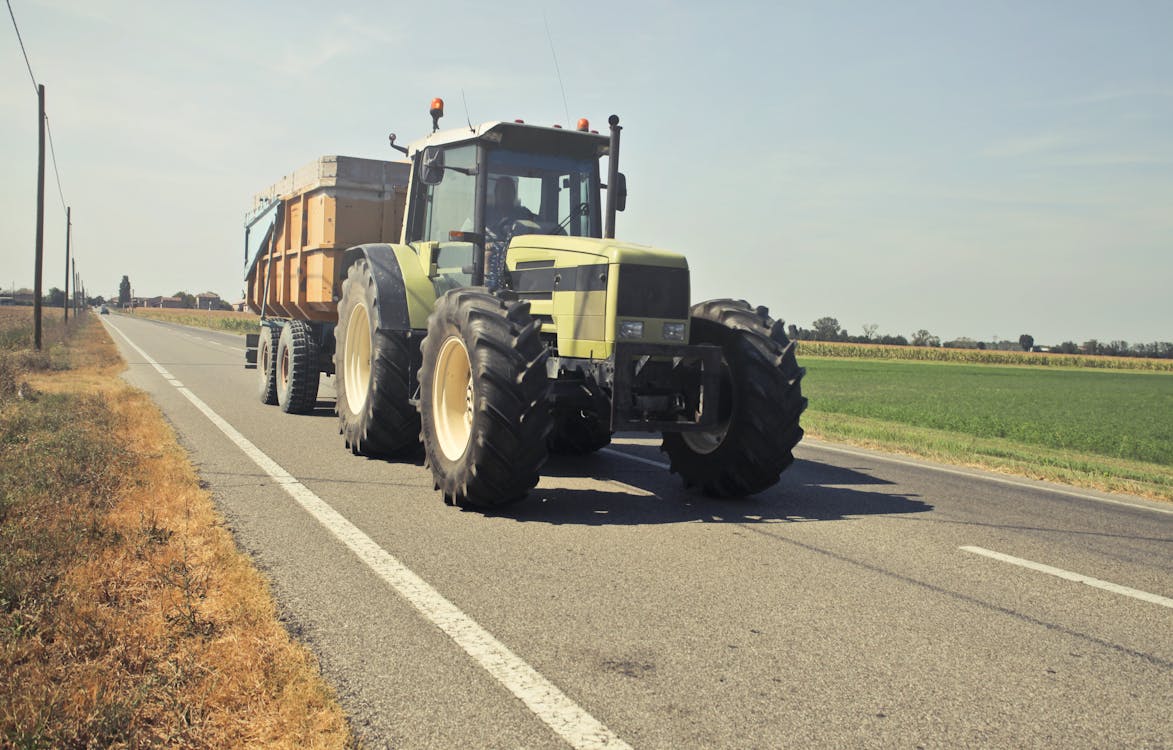 Pig Pens
There's more to Norfolk than farms, but there's an undeniably mesmerising quality to the hay-strewn suburbs littered around the county. Long before reaching Norwich, you'll see these vast village where pig-life is represented in all forms: Going to market, staying home, having roast beef etc. This one isn't so much "stop and smell the roses" but admire with your eyes with the windows rolled up.
Unpronounceable town names
If all the road signs did suddenly disappear, would that make the confusion around pronouncing Wymondham better or worse? You'd think there are twice as many towns as there actually are in Norwich just because one town exists as you spell it and one exists as you speak it. Stiffkey, Happisburgh, Costessey… good luck asking for directions!
The Army
What that in sky? Is it a dragon? The second coming? The shriek of someone who doesn't know that the dent they just got can be repaired more precisely, efficiently and cost-effectively via SMART repair? If you can hear the roaring of engines and it's not coming from your own aluminium chariot, then it's coming from the RAF flying high above. If you make a wrong turn, chances are you're heading towards an army base.
Roadside Pheasants
Sadly, our on-site, same-day service can't fix pheasants. We can, however, fix any pheasant-related damage. Judging from the number of pheasants on the side of the road, it'll come in handy sooner or later.
We know these roads well. When it comes to Norfolk-born dents and scratches, our SMART solutions are the most cost-effective, precise and efficient way to repair your car. In fact, our targeted approach means that we'll come to you with everything we need to get your car to its original factory standard. SMART service has never been so convenient.
Minor damage? You can never be too sure…
No matter how careful we are as drivers, tight car parks, overgrown hedges, and loose stones present unavoidable risks to our cars' paintwork. The best of us will have suffered an occasional scratch or dent to our car. While it's a painful moment, minor damage can be all-too-easy to dismiss. Here are some reasons why you might regret leaving your car's paintwork damaged over time, even if it's only a little scratch. 
1. Appearance
An immediate reason for many people to fix dents and scratches to their vehicle is how it looks. If you take pride in your car, you likely care whether it looks good, and dents and scratches to the paintwork certainly diminish its aesthetic value. This is especially important if you are looking to sell a vehicle, as the buyer's first impression of it will be visual. That brings us to…
2. Resale Value
While dents, chips, and scratches to your paintwork usually do not affect how a car runs and can be fairly easy to fix, they can significantly decrease the value of your car if left unrepaired. External damage can be seen as a sign of neglectful ownership, and could lead a potential buyer to question what else might be wrong with the car. As such, it is best to ensure your car is looking its best before you put it on the market, as this is likely to raise the price by more value than you will need to invest.
3. Continued Paint Damage
Vehicle paintwork is made to withstand all sorts of weather, daily wear and tear, and regular washing. When a car's paint is dented or scratched, these everyday factors have a greater impact, potentially causing the paint to peel or flake and exposing the sealant underneath the paint. If scratches or dents are severe enough, the sealant underneath the paint may also be damaged, creating an opportunity for the metal to rust.
4. Rust Problems
Car dents and scratches are more than just unsightly blemishes. Even minor surface damage can cause cracks which allow water to penetrate the sealant layer, and reach the unprotected metal of a vehicle. Exposure to water leads the metal to oxidise, resulting in rust. Rust is not only unappealing, but can eventually cause serious structural damage to the exterior of your car and adversely impact its safety. 
5. Safety
Safety is the single-most important characteristic of a vehicle. Small dents and scratches in a car's paintwork can result in structural damage which isn't immediately visible. For example, modern bumper covers are often coated in plastic to minimise visible damage in low-speed collisions, but this means underlying damage can be worse than it looks. To avoid risking your safety and the safety of your passengers, get any damage to your car's paintwork assessed and repaired by an experienced professional. 
With all of this in mind, don't let a minor dent or scratch in your car become a major problem. We highly recommend that you consult an experienced professional to evaluate the paintwork damage and recommend a suitable course of action to fix it. Often, you'd be surprised what expert technicians are capable of undoing!
From minor dings to deep scratches, smart repair technology allows you to restore your vehicle to a factory finish quickly, and at a fraction of the price offered by your average auto repair shop. Contact East Anglia Smart Repair today to find out what our team of expert technicians can do for you!